WoofConnect Tuscaloosa: Free Dog Boarding in a Homely Environment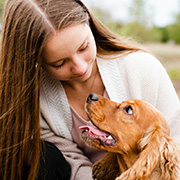 Are you planning your next vacation but worried about your furry friend's care? Instead of choosing a busy kennel, why not try WoofConnect for free home-based dog boarding in Tuscaloosa? Your dog will stay with an experienced sitter who understands your dog's breed and energy level, providing a homely environment that's similar to what they're used to. Your dog will feel relaxed and at ease with personalized care, following their regular schedule for food and exercise. You can enjoy your vacation with peace of mind, knowing that your dog is in good hands.
What is Home-Based Dog Boarding with WoofConnect like?
Unlike traditional kennels or dog hotels, home-based dog boarding with WoofConnect is a more personalized and comfortable experience for your dog. Your dog stays with a pet sitter in their own home, receiving individual attention and care that's tailored to their unique needs. This reduces stress for your furry friend, as they won't be in a crowded or unfamiliar environment.