WoofConnect Montgomery: The Free and Personalized Way to Board Your Dog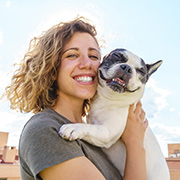 If you're a pet owner, you know how difficult it can be to find the perfect care for your furry friend while you're away. Traditional dog boarding facilities in Montgomery may not always be the best option due to the risk of overcrowding and illness. And while you may prefer to ask friends or family for help, it's not always feasible. Enter WoofConnect, the solution for personalized and worry-free in-home dog boarding in Montgomery.
In-Home Dog Boarding The Better Option
Choosing in-home dog boarding through WoofConnect offers your dog the comfort and care of a home environment, reducing stress and anxiety. Unlike traditional dog boarding facilities, your pup will receive personalized attention from an experienced dog sitter who will care for them in their own home. With more attention to individual needs, you'll have peace of mind knowing your dog is in good hands.