Experience WoofConnect Mobile: Discover the Ultimate in Free, Home-Styled Dog Boarding Today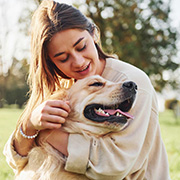 Going on vacation and leaving your furry friend behind can be a stressful experience. While we all wish we could ask friends or family to take care of our beloved pets, it's not always an option. Dog boarding facilities in Mobile (AL) can also be unappealing to many dog owners due to their busy and sometimes stressful environments, not to mention the risks of illnesses and injuries. Luckily, WoofConnect offers a fantastic and free alternative with its home-based dog boarding services in Mobile (AL). Experienced caretakers will look after your dog in their own home, giving them the same relaxed vacation that you'll be enjoying.
Home-Based Dog Boarding
By choosing to board your dog with a WoofConnect pet sitter in Mobile (AL), you'll be providing them with a familiar environment where they can feel at ease. Your dog won't have to adapt to a new environment, which can be a source of stress for many dogs at boarding facilities or kennels. Moreover, a pet sitter who welcomes your dog into their home has more time and attention to devote to them, providing you with peace of mind while you're away on vacation. With a WoofConnect pet sitter, your dog will enjoy a stress-free stay.