WoofConnect Huntsville: Complimentary Dog Boarding in a Homely Environment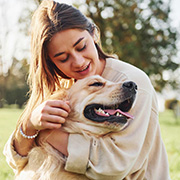 When planning for a vacation, leaving your cherished dog behind can be a heart-wrenching decision for any pet owner. Over time, our furry companions evolve from being simply pets to precious family members. The prospect of parting from them, even briefly, can evoke deep emotions. At times, entrusting your beloved pet to friends or family may not be feasible. Resorting to dog kennels might induce unnecessary stress and pose risks for many dogs. The confined spaces, the unfamiliar surroundings, and the limited personal attention often contribute to anxiety and discomfort for our four-legged friends. And it is in the context of dog boarding in Huntsville that a unique solution emerges.
Thankfully, Huntsville's WoofConnect provides a delightful, free alternative to traditional dog boarding. This innovative service matches your treasured dog with a trusted, experienced dog sitter who warmly welcomes your pet into their personal residence. Such an arrangement ensures a personalized, comforting, and homely atmosphere for your dog. It allows them to maintain their daily routines and relish the same level of care and affection they are accustomed to at home.
By opting for dog sitting through WoofConnect, dog owners can enjoy their vacations with peace of mind, knowing their furry friend is also having a relaxing and pleasurable time.
A Homely Experience with Dog Boarding in Huntsville
Choose a personalized and warm dog boarding experience in Huntsville with WoofConnect. This arrangement allows your dog to remain in a familiar environment, significantly reducing their stress levels. Unlike traditional dog kennels, which can be noisy and overwhelming, a dog sitter providing care in a home setting can devote more time and attention to your pet. This reassures you that your furry friend is in safe hands.