Discover WoofConnect: The Ultimate App for Dog Boarding in Madison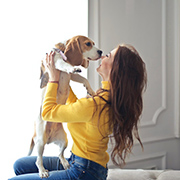 As a dog owner, you know better than anyone that finding the right dog care can be challenging. Traditional dog boarding is not an option for many, as you want your furry friend to be in good hands and feel comfortable in a home-like environment. WoofConnect understands this better than anyone, providing the perfect dog boarding solution for all dog owners in Madison Alabama and its surroundings.
Free Boarding with Reliable Sitters Instead of Expensive Dog Kennels
WoofConnect is a convenient app that connects you with dog owners in Madison and the surrounding areas. The best part is that the boadring is entirely free! Unlike conventional dog boarding facilities that can cost between $25 and $45 per day, WoofConnect offers free home care with a sitter in a cozy atmosphere. This way, you not only save money but also give your dog the chance to make new friends and feel at home with the sitter.