Dog Boarding in Birmingham? With WoofConnect Free In-Home Boarding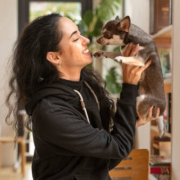 When you're going on vacation, it's not always possible to bring your furry friend along. If your friends and family aren't available to take care of your dog, then you may want to consider free in-home dog boarding through WoofConnect. Instead of taking your dog to a traditional dog boarding facility in Birmingham, your dog will be staying in a cozy home environment with an experienced dog sitter. The sitter will provide the personalized attention that your dog is used to and even has a dog of the same breed and age for a perfect match. The best part? In-home dog boarding through WoofConnect is free.
In-Home Dog Boarding: What Is It?
Many dog owners prefer in-home dog boarding because it offers a homey atmosphere with personalized attention. Your dog will stay in a sitter's home, maintaining their regular eating and walking schedule. In traditional dog boarding facilities, this level of personal attention is difficult to achieve due to the large number of dogs they care for. With in-home dog boarding through WoofConnect, your dog will enjoy a relaxing and comfortable stay in a quiet and familiar environment.