Free Dog Boarding in Summerville: Warm, Cage-Free Sanctuary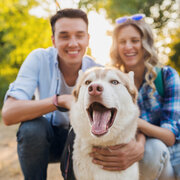 As dog parents, we've all been there, right? Gearing up for a much-deserved break or a spontaneous road trip, but there's one glitch. Who's going to look after your fur baby? Nobody wants to leave their cherished canine companion in some far-off, expensive kennel in Summerville, do they? Picture this instead: your dog having their own mini-vacation, in a place where they feel safe and comfy, under the loving care of someone who treats them like their own. WoofConnect is here to make this dream come true. It's your go-to hub for dog boarding in Summerville – it's like a spa retreat for your pooch!
Cultivating Canine Comrades in Summerville: Your Pooch's Playmate is Just a Tap Away
Think of WoofConnect as a lively, engaging social hub, but for dogs. It connects you with other fur parents in Summerville for boarding who have a four-legged friend of the same breed, age, and pizzazz as yours. It's like finding your dog's BFF, a buddy who speaks their language and matches their enthusiasm. The cherry on top? It's always a pawfect match!
A Second Home: Your Dog's Warm, Cage-Free Sanctuary
Say goodbye to the sterile, impersonal atmosphere of a kennel and hello to the cozy, loving environment of WoofConnect. No cages here, just a local pet sitter who gets your dog's breed, personality, and most importantly, their need for infinite belly rubs.