Free Dog Boarding in Charleston, WoofConnect, Your Dog's Favorite Vacation Spot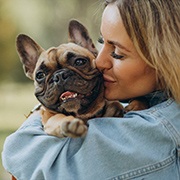 It's a question that plagues every dog parent: where to drop off your four-legged friend when you're out of town? Leaving your pooch in a pricey, uninviting kennel in Charleston hardly seems like the ideal solution. Wouldn't it be great if your dog had a warm, inviting space to kick back while you're away? A place where your dog is showered with the same affection and care you provide? That's where WoofConnect dog boarding Charleston comes into play – it's more than just a dog boarding service, it's your dog's favorite vacation spot right in Charleston.
The Dog Boarding Network in Charleston: WoofConnect, Your Dog's Go-To Hangout
We match you up with fellow dog parents in Charleston for boarding, ensuring your pup has a companion of the same breed and age. It's like finding a long-lost twin for your dog, someone who 'speaks' their language and matches their energy levels. A veritable canine connection!
A Homey Haven: WoofConnect's Tender, Loving Dog Boarding
Say adios to grimy kennels and embrace WoofConnect's cozy, nurturing environment. No cages, just a pet-loving sitter who lives in your neighborhood and understands your dog's breed, disposition, and adorable eccentricities.