Free Dog Boarding in Rock Hill: WoofConnect – Your Pup's Dream Staycation Destination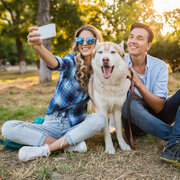 Ever felt stumped about where to leave your canine companion when you're planning a vacation or even a weekend trip? Leaving your pet, who's essentially a part of your family, in a cold, overpriced dog boarding facility in Rock Hill isn't really an appealing option, right? You'd prefer a place that feels like a second home to your dog – a place where they feel safe, loved, and comfortable. That's exactly what WoofConnect offers, right here in Rock Hill. A local home where your dog is showered with as much love and care as you would give them.
WoofConnect: Your Pooch's Social Boarding Network in Rock Hill
Think of WoofConnect as a social boarding platform for dogs. It connects your pup with another local dog owner in Rock Hill who has a pet of the same breed and age. This commonality fosters an immediate bond, as they understand each other's unique language and energy levels. WoofConnect isn't merely a boarding service; it's a hub for lifelong doggy friendships!
Home Is Where the Heart Is: WoofConnect's Caring Dog Boarding
Say farewell to the sterile environment of conventional kennels. WoofConnect introduces a nurturing, homely setting where your dog is treated with all the affection and attention they deserve, by a sitter from your local area who is well-versed with your dog's breed and energy.