Dog Boarding in Columbia, Cost-Free: WoofConnect, Your Dog's Ultimate Vacation Destination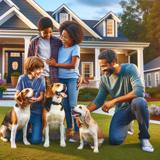 If you are a pet owner, one question probably bugs you often: where to leave your furry buddy when you have to step out? The idea of your pal in a pricey, unwelcoming cage in Columbia isn't good enough. Imagine if there was a warm, friendly spot for your pup to hang out while you're not around? WoofConnect dog boarding is exactly that – it's more than just a place for your dog to stay in Columbia; it's like their second-favorite snuggle spot.
WoofConnect: Where Your Dog Finds Buddies in Columbus
Think of WoofConnect as a fun club for your canine. It pairs up your pet with another local dog lover for their stay, making sure they meet another dog who is just like them – same breed, same age. It's like setting up a playdate with someone who speaks their 'bark' and matches their playful spirit.
A Snug Spot: WoofConnect's Comfy Dog Care
Forget about those unwelcoming cages. At WoofConnect, your dog gets a homey vibe full of cuddles and care. All of this loving attention comes from a nearby caretaker who really understands what makes your dog special – from their breed traits to their little habits.