WoofConnect: Revolutionizing Dog Boarding in Greenville – A Home from Home Experience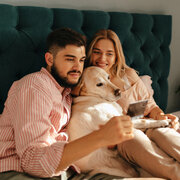 Fellow dog parents in Greenville, let's gather round the water bowl for a chat. Picture this: your suitcase is out, the vacation is all set, and your furry little buddy is shooting you those "What about me?" eyes. That guilty twinge hits you right in the heartstrings. The thought of leaving them in some chilly, impersonal kennel just doesn't sit right. What you really want is a homey retreat for your four-legged friend, a place of pampering and love. That's where WoofConnect enters the picture. We're rewriting the rules of traditional dog boarding in Greenville, crafting a canine-loving community where your pet discovers a temporary home filled with the same love and attention they're used to. And guess what? It's a reciprocal relationship – when their paws are out the door, you step in. Think of it as a meet-up of similar breeds, similar energy levels, and a ton of fun!
A New Era in Dog Boarding in Greenville
Wave goodbye to the worry of finding the perfect sitter. With WoofConnect, we've got your back. We pair you up with the ultimate match for your dog right here in Greenville. Imagine this: your poodle, chilling with a fellow poodle of the same age, communicating in the universal "dog-ese," and having an absolute blast. It's a pairing straight out of doggy paradise!
Dog Boarding Reinvented: WoofConnect Puts Love and Comfort at the Forefront
WoofConnect is revolutionizing the dog boarding space. Say goodbye to lonely cages and isolation. Instead, your furry friend will find a loving home where they can be as relaxed and comfortable as they are with you. We make sure the sitter understands your dog's breed and energy level, creating a second home where your pet feels loved and cherished.