Dog Boarding in Spring Valley – A Cozy Retreat for Your Furry Friend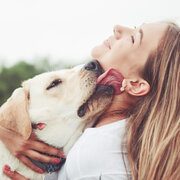 Ever found yourself caught up in the familiar quandary of what to do with your four-legged pal when you're planning a vacation or a weekend getaway? It's always a struggle deciding whether to leave your pup at a cold, impersonal, and pricey dog kennel in Spring Valley. When you're off having a good time, you want your pooch to have their own little haven where they feel safe and loved, just like at home. And that's exactly what WoofConnect offers – a heartwarming space for your pup, right here in Spring Valley!
WoofConnect – Your Ultimate Dog Boarding Solution in Spring Valley
WoofConnect pairs you up with someone who owns a dog of the same breed, similar age, and is on the lookout for someone like you. You take turns looking after each other's dogs during holidays.
Buddy Up with Fellow Dog Parents in Spring Valley for No-cost Boarding
Discover like-minded dog owners in Spring Valley for a dog boarding experience that's a step above the rest. The dogs are of the same breed or mix and about the same age. They inherently understand each other's behavior and energy levels, which always makes for a great fit!