Free Dog Boarding in Enterprise – A Homey Haven for Your Dog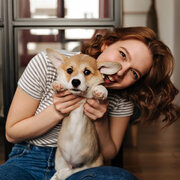 Every dog parent knows the struggle – finding the right care for your furkid when you're off on a holiday or a weekend getaway. The last thing you want is to leave your tail-wagger in an unfamiliar, costly kennel in Enterprise. Vacation time should be relaxation time for everyone, including your dog. Wouldn't it be wonderful if your dog could also enjoy a comfy, homely environment while you're away? A place where they're treated with the same love and attention that you shower on them? That's where WoofConnect steps in – we find that special someone right here in Enterprise, who not only adores dogs but also has a pooch of the same breed and similar age. You'll take turns caring for each other's pets during vacations. Many of our users have had such a great experience that they even plan joint weekend outings or day trips. Matching breed, equal energy – it's always a pawsome match! WoofConnect is your go-to solution for dog boarding in Enterprise.
WoofConnect – Your Pet's Passport to Paw-sitive Connections in Enterprise
We help you connect with other dog parents in Enterprise who have a pooch of the same breed and similar age. It's like a canine playdate every day! Dogs of the same breed tend to have a shared "language" and energy levels, making it an excellent match every time.
A Cage-Free, Cuddles-Full Stay for Your Dog
At WoofConnect, we promise no cages, just a homely environment filled with love and care. The sitter from your neighborhood understands your dog's breed, its energy, and knows just how to make them feel at home.