Your Pup's Ultimate Staycation: Free Dog Boarding in Sparks, Nevada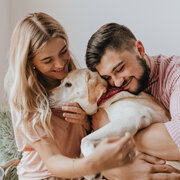 Are you weary of the guilt that nibbles at you every time you embark on a vacation, leaving your tail-wagging bestie behind? We've got some tail-wagging news for you! With WoofConnect, those days of guilt and worry are a thing of the past. We're turning the tables on traditional dog boarding, right here in Sparks, Nevada, to make sure your furry buddy gets to enjoy their own fun-filled staycation when you're out of town.
Doggie Slumber Parties: WoofConnect's Game-Changing Approach to Dog Boarding
WoofConnect is far from your run-of-the-mill dog boarding service. It's a dynamic community of dog parents who truly understand that every pooch deserves a warm, loving environment, especially when their humans have to be away. We're about connecting dog owners together, creating a network of care where everyone has each other's pups' best interests at heart. It's a doggie slumber party, and your furball is cordially invited!
Shake Up Your Dog Boarding Budget with WoofConnect
Let's address the elephant in the room – dog kennels in Sparks can cost a pretty penny. With daily rates floating between $35 and $55, a week-long stay can easily set you back by $200 to $350. But imagine a world where you could secure a safe, homely, and affectionate environment for your dog without having to shell out a small fortune? Enter WoofConnect – a dog boarding service that promises almost cost nothing but doubles down on love and care.