Free, Home-Like Dog Boarding in Las Vegas with WoofConnect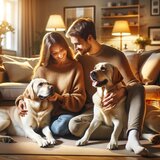 Las Vegas dog owners know it's tough to find the right spot to keep their pets when they're out of town. The city, famous for its glittering Strip and lively scene, makes the hunt for trustworthy dog care pretty tough. Regular pet lodging spots in Las Vegas often miss that homey vibe—most provide just the basics. Not to mention, prices for these services, including staying overnight, can hit the roof. WoofConnect steps up as a fresh, wallet-friendly choice that feels more like home compared to old-school doggy digs in Vegas.
WoofConnect: A Fresh Take on Pet Care
More than an app, WoofConnect in Vegas aims to knit together a passionate community of local dog lovers. Our service is all about swapping favors, so you look after other members' pets, and they do the same for you. This novel method gives your furry pal a comfy hangout that won't break the bank the way most Vegas dog lodgings will.
Home Sweet Home: WoofConnect's Dream for Vegas Pups
We at WoofConnect Vegas believe that all dogs, tiny pooches or huge mutts, should feel at home. We pair your precious pet with a fellow dog lover from the bright lights of the city, making sure they've got a cozy place to stay. This helps ease your dog's worry about being without you and lets them chill out and make new furry pals.
Finding the Perfect Fit for Your Furry Buddy
Here in Vegas, WoofConnect focuses on keeping your dog jolly and snug. With our savvy matching tech, we find a companion that mirrors your dog's breed, age, and personality. This tailored matchup changes the whole game of pet boarding intoA Fun and Social Adventure, full of playtime and opportunities to socialize.