Free Dog Boarding in Henderson – A Cozy Retreat for Your Pooch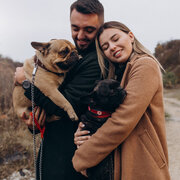 Ever face the conundrum of where to leave your pup when you're packing for a vacation or a quick weekend getaway? Nobody wants to leave their fluffy buddy in a cold, expensive dog kennel in Henderson. When you're off enjoying your holiday, your doggo should be in a place that feels like a second home. The perfect spot? A home where someone offers your pup just as much love and cuddles as you do. That's where WoofConnect comes into play, matching you with that special someone right here in Henderson. They've got a dog of the same breed, around the same age, and they're ready to step in for you. You get to return the favor when they're out of town – it's like a doggy care swap! This system works so brilliantly that pet parents often plan shared weekend outings or day trips together. Same breed, same energy, it's always a paw-some match! WoofConnect is your answer to dog boarding in Henderson.
WoofConnect: Henderson's Dog Owner Mixer for Pet Boarding
Find your pup's twin with owners in Henderson for dog boarding who have a dog of the same breed/mutt and are around the same age. These furballs understand each other and share the same playfulness. It's a match made in doggy heaven!
Your Dog's Second Home: Caring Boarding in a Homestyle Environment
Say adios to cages and welcome a nurturing boarding experience for your dog in a homestyle setting with a local sitter who totally gets your dog's breed and vibe.