Free Dog Boarding in North Las Vegas – The Ultimate Pet-cation for Your Furry Friend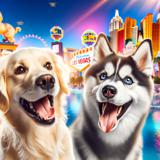 If you're planning a trip and puzzled about where to leave your precious dog, look no further. Tired of the distant feel of regular dog kennels in North Las Vegas? No worries! WoofConnect is changing the game in dog boarding. We provide a friendly, homelike place for your pooch at no cost, ensuring they have as much fun as you do on vacation!
Pairing Like-Minded Dog Owners for Boarding in North Las Vegas
WoofConnect is about bringing together owners of similar breeds and aged dogs, matching their energies for a peaceful space where your pet can feel right at home.
Your Dog's Home Away From Home – Free and Full of Love
Forget about small cages. With WoofConnect, your four-legged friend enjoys the comfort of a homely setting, looked after by someone who knows their breed and quirks well.