Welcome to WoofConnect: Comfy, No-Cost Pet Boarding in Virginia Beach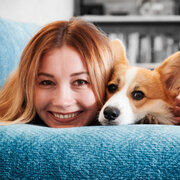 Ever wonder what to with your dog when you're off on a trip or a quick weekend escape? It's an issue a lot of pet owners deal with. The last thing you want is to dump your beloved pooch in some chilly and impersonal kennel that'll cost an arm and a leg. That's where WoofConnect swoops in to save the day, offering something totally new right here in Virginia Beach – a free dog boarding service that feels just like home for your furry pal.
Connecting Dog Enthusiasts in Virginia Beach
WoofConnect is all about bringing together a tight circle of dog fans in the area. You get hooked up with other dog folks who have a pup same as yours: breed and age-wise. There's some kind of magic when pooches can gab and play at the same energy levels. Dogs get to hang out and form friendships, while their humans lend each other a hand by looking after the pups when needed. The idea is pretty straightforward – similar breeds and vibes equals a perfect pair every time.
A Second Home for Your Dog in Virginia Beach
Forget the old-school kennels. WoofConnect is changing the game with cozy, homey spots that feel just like being at your place. Sitters who already get your dog's breed and personality make darn sure your buddy's as snug as a bug and showered with love. Think of it as your dog's own little holiday, no cages or cold vibes involved.