Free Home-Like Dog Boarding in Chesapeake: The Perfect Solution for Your Furry Friend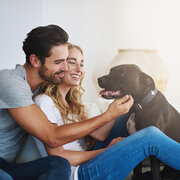 Are you a devoted dog owner struggling to find the perfect care option for your pooch when you're not around? Choosing between pricy dog kennels in Chesapeake that charge $40 to $60 daily, or asking friends and family to look after your furry pal can be tough. But imagine a fresh, innovative solution that offers your dog a homey setting during your absence. Meet WoofConnect dog boarding Chesapeake, a distinctive boarding service that focuses on your dog's well-being and joy.
Making Connections for Dog Boarding
WoofConnect is revolutionizing dog boarding in Chesapeake by connecting pet parents with fellow local dog owners. This means your pup gets to stay in another loving home while you take a trip or need to be out of town for a bit. Forget the cold feeling of a kennel; your dog gets to relax in a friendly, homely atmosphere, getting all the special care and comfort they are used to.
Skilled Pairing with Dog Sitters
WoofConnect shines because of how carefully we pair dogs with sitters. We know that dogs of the same breed and similar age and energy often click right away. So we do our best to place your furry friend with a sitter who has a compatible dog. This means dogs are happy together, and you can rest easy knowing your beloved pet is with someone who knows how to take great care of them.