Free Home-like Dog Boarding in Richmond: A Comforting Haven for Your Beloved Pet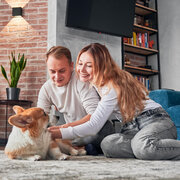 Being a dedicated dog owner in Richmond means seeking the finest care for your furry family member when you're unable to be with them. Traditional kennels can often seem detached and lacking in the affectionate care your canine companion needs. But WoofConnect is here to transform dog boarding in Richmond, presenting a loving, home-like environment, and connecting you with fellow pet owners who will cherish your dog as their own. Say farewell to impersonal kennels and welcome a specialized, caring experience that will have your dog's tail wagging in delight.
Fostering Connections among Richmond Dog Owners: Bespoke Boarding Experiences
WoofConnect firmly believes in the strength of relationships. Recognizing that dogs flourish in the company of compatible peers, we link dog owners in Richmond, pairing them with like-minded dog enthusiasts whose pets share similar breed characteristics, ages, and energy levels. Through these bespoke boarding experiences, we ensure your pet feels at home with their boarding partner. Our community is grounded in trust, empathy, and a mutual passion for our four-legged friends. Together, we can provide unparalleled care for our cherished pets.
Boarding with Heart: Prioritizing Your Dog's Comfort
Opting for WoofConnect translates into a boarding experience that's second to none. Forget about chilly kennels and solitary nights. Our sitters are passionate about understanding your dog's breed and energy, and they provide tailored care and attention. Your pet will enjoy daily walks, play sessions, and countless cuddles. We strive to make their stay a genuine home away from home, safeguarding their happiness and well-being throughout their time with us.