Transforming the Dog Boarding Paradigm in Alexandria: Ditch the Cages, Indulge in Comfort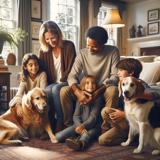 Greetings, fellow dog enthusiast! Most of us have grappled with this predicament: envisioning that well-earned break but haunted by the prospect of leaving our precious fur-babies in unfamiliar surroundings. Here in Alexandria, conventional kennels often charge between $45 to $65 per day—that's a staggering $315 to $455 for a week! However, the issue extends beyond the cost; it's the impersonal atmosphere that many find off-putting. You want your dog to be nurtured and pampered, not confined to a cage, right? Allow us to introduce you to WoofConnect—the future of dog boarding in Alexandria.
Picture a Comfortable, Customized Boarding Experience in Alexandria
WoofConnect is the ultimate neighborhood social gathering—only it's exclusively for our four-legged pals. It's an innovative platform that serves as a bridge for dog owners in Alexandria, building a community where the perfect home-away-from-home for your dog's boarding requirements is just around the corner. Imagine connecting with a fellow dog parent who owns a pet of the same breed and age as yours. Someone who truly appreciates and understands the whims and fancies of your furry friend.
A Fellowship of Dog Aficionados Speaking 'Doggo'
Have you ever noticed the instantaneous connection when dogs of the same breed and age encounter each other? It's as if they share a secret language, a silent understanding that's simply heartwarming to observe. WoofConnect harnesses this unique canine chemistry to design harmonious boarding experiences.
In this affectionate canine community, your pet's holiday companion will mimic their energy levels and temperament. It's like discovering your pup's lost twin! Even for our elderly, more laid-back buddies who prefer napping over playing, there's an ideal partner who equally cherishes the tranquility.