Redefining Dog Boarding in Hampton, VA: Embrace Comfort, Ditch the Cages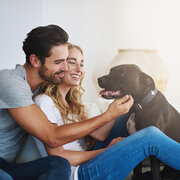 Experience WoofConnect: A Cozy, Cost-Effective Dog Boarding Revolution in Hampton
Hello, dedicated dog devotee! You've likely faced this dilemma: daydreaming about that well-deserved vacation but weighed down by the thought of leaving your cherished canine companion behind in an unfamiliar environment. Here in Hampton, traditional kennels can be quite an investment, with daily rates hovering between $40 to $60—that's a hefty $280 to $420 for a week! But it's not just about the expense; it's about the often cold and impersonal atmosphere these kennels present. Your desire is for your furry friend to experience warmth and care, not confinement in a cage, isn't it? Enter WoofConnect, Hampton's innovative solution to dog boarding!
Visualize an Inviting, Customizable Boarding Experience in Hampton
WoofConnect represents the ideal community gathering—it's like a neighborhood block party designed exclusively for our four-legged friends. It's a unique platform that links dog owners across Hampton, fostering a community where you can find a perfect temporary home to meet your dog's boarding needs. Imagine forming a bond with another dog owner who has a pet of the same breed and age as yours—an individual who truly comprehends and empathizes with your furry friend's quirks.
A Confluence of Canine Connoisseurs Speaking the Same Language
It's a heartening sight when dogs of the same breed and age come together—it's as though they share an extraordinary, silent language. WoofConnect taps into this fascinating canine communication to curate harmonious boarding experiences.
Within this nurturing canine community, your pet's holiday playmate will mirror their energy levels and character traits. It's akin to finding your pup's long-lost twin! Even for the senior dogs, who are more laid-back and prefer snoozing over romping, there's a perfect buddy who relishes peace and tranquility just as much.