Introducing WoofConnect: A Revolutionary Approach to Dog Boarding in Arlington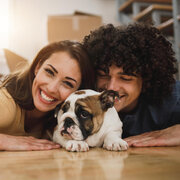 Every dog owner has pondered what to do with their cherished pet during vacations or short weekend breaks. The idea of leaving your best friend in a cold, impersonal, and expensive kennel in Arlington is less than ideal. When embarking on a holiday, it's comforting to know that your canine companion is also enjoying a pleasant and relaxed experience, in a home-like environment where he or she feels loved and comfortable. Enter WoofConnect, a service designed to connect dog owners and create mutual support networks. It identifies like-minded individuals in Arlington who own a dog of the same breed and similar age and are also seeking reciprocal dog care arrangements. This mutual care system works so well that owners often extend their connection beyond vacations to cover day outs or weekends. Same breed, same energy, always a perfect match – that's the WoofConnect promise, the ultimate dog boarding solution in Arlington.
Bridging the Gap Between Dog Owners in Arlington: A New Dawn in Dog Boarding
WoofConnect is more than a service; it's a community that facilitates connections between dog owners in Arlington for mutual boarding arrangements. The magic lies in the pairing of dogs of the same breed or crossbreed and similar age – they instinctively understand each other's energy levels and behavioral cues, leading to an effortless and harmonious match.
Experience the Joy of Home-Like Dog Boarding – A Comfortable Retreat for Your Furry Friend
With WoofConnect, your dog enjoys a stay in a welcoming home, cared for by a local sitter who understands your dog's breed and energy. No cages, just a warm, nurturing environment that mirrors your pet's familiar surroundings.