WoofConnect Springfield: Free Dog Boarding in a Homely Environment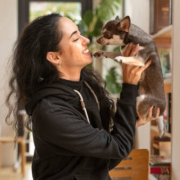 When it comes to your dog's well-being during your vacation or weekend getaway, finding the perfect care can often be a challenging task. However, WoofConnect has the perfect solution for dog owners for dog boarding in Springfield and surrounding areas. Our innovative platform offers free and loving dog boarding in the comfort of a caring dog owner's home, eliminating the need for costly boarding facilities.
At WoofConnect, we understand the importance of providing a safe and nurturing environment for your furry friend. That's why we have created a network of dedicated dog owners who open their homes to offer free dog boarding services. These genuine and caring individuals share a love for dogs and are committed to providing a loving environment that rivals expensive boarding facilities.
Find Free and Loving Dog Boarding Near You
WoofConnect is an app that allows you to easily find the ideal dog sitter for your pet. All you need to do is download the app and create a profile for you and your dog. The sitters on WoofConnect are all experienced and loving dog lovers who know how to take the best care of your dog. Additionally, they live in the Springfield area, so you never have to travel far to drop off or pick up your dog.