In-Home Free Dog Boarding Lee's Summit: A Worry-Free Option for Your Furry Friend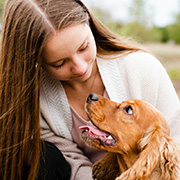 As a responsible dog owner, you want the best care for your furry friend, especially when you go on vacation. Leaving your dog with friends or family may not always be feasible, and traditional dog boarding facilities may not be the best fit for your dog's needs. With overcrowding, risk of illness and injury, and unfamiliar surroundings, it can be a stressful experience for your beloved pet. Fortunately, WoofConnect provides a worry-free and affordable alternative for in-home dog boarding in Lee's Summit, where your dog can enjoy personalized attention and a comfortable stay. WoofConnect also provides a cost-effective option for dog owners, where the dog boarding itself is free.
Why Choose In-Home Dog Boarding?
In-home dog boarding is an excellent choice for pet owners who want their furry friend to have a homey and comfortable atmosphere during their stay. Unlike traditional dog boarding facilities, in-home dog boarding with WoofConnect provides a personalized experience that is tailored to your dog's individual needs. The dog sitters are experienced and have the skills to care for dogs, which gives you peace of mind. Your dog can enjoy a stress-free vacation, just like you!