WoofConnect Independence: A Better Option for Dog Boarding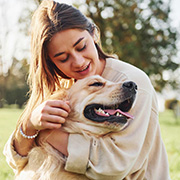 As a dog owner, you want the best for your four-legged friend, especially when it comes to their care and safety. However, finding a reliable dog boarding facility can be challenging, especially with the risk of overcrowding and the potential for illness and injury. Luckily, WoofConnect offers an excellent free alternative to traditional dog boarding facilities in Independence with in-home dog boarding, where your dog can stay with an experienced dog sitter in their own home, allowing them to enjoy a relaxing vacation while you're away.
Personalized In-Home Dog Boarding
In-home dog boarding with WoofConnect provides your dog with a personalized experience and a homely atmosphere that helps them feel comfortable and less anxious. Unlike traditional dog boarding facilities, in-home dog boarding offers a quieter environment with fewer dogs, which can reduce anxiety and stress in your furry friend. With WoofConnect, the dog sitter can focus on your dog's individual needs, providing the necessary care and attention to keep your dog happy and healthy.