WoofConnect Columbia: Free Home Dog Boarding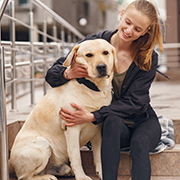 As a pet owner, you want to make sure that your furry friend is in good hands when you go on vacation. While you might prefer to ask friends or family to take care of your dog, this isn't always possible. Many dog owners are wary of traditional dog boarding facilities in Columbia due to the potential for overcrowding and the risk of illness and injury. Fortunately, WoofConnect offers a fantastic alternative with in-home dog boarding in Columbia, where an experienced dog sitter will care for your dog in their own home, allowing your pup to enjoy a relaxing vacation just like you.
In-Home Dog Boarding
Choosing in-home dog boarding with a dog sitter through WoofConnect offers your dog personalized attention and a homey atmosphere, which helps them feel more comfortable and less stressed. For many dogs, a stay at a traditional dog boarding facility can be anxiety-inducing due to the unfamiliar environment and the hustle and bustle of other dogs. In contrast, a dog sitter who provides in-home dog boarding has more time to focus on your dog's individual needs, which gives pet owners peace of mind. This way, your dog can have a worry-free stay while you're away on vacation.