WoofConnect Kansas City: A Personalized Approach to Dog Boarding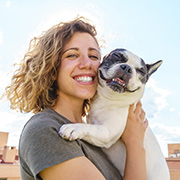 Kansas City folks are always seeking out the best places for dog boarding. That's where WoofConnect steps in, a one-of-a-kind app that's reshaping the game in dog care services. We offer dog owners the ideal mix of love, comfort, and handiness for their pets. We're changing the game for dog boarding in Kansas City.
Meet Your Ideal Dog Sitter on WoofConnect
WoofConnect isn't just an app; think of it as your entry to a circle of dog lovers who are all about top-notch care for your four-legged buddy. The app's easy to use, letting you quickly find a bunch of seasoned sitters right in Kansas City. These folks love dogs and have the right skills to look after your pet in a special way. Plus, everything's super close by.
Discover Free Boarding in Kansas City
WoofConnect shakes things up with an offer of cost-free boarding. This is huge considering other places charge a lot for this service. But on WoofConnect, your furry friend gets to stay over in a cozy, homey space at no cost. This means lots of one-on-one care that feels just like the affection they get from you.