WoofConnect Springdale: Free Overnight Dog Boarding in a Homely Environment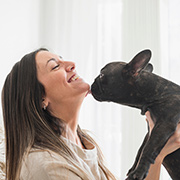 Finding a good dog boarding facility in Springdale can be a challenging task. But with WoofConnect, the largest dog boarding network in the USA, you can easily find a match with other dog owners of the same breed or similar crossbreed and discover a free, loving, and homely vacation spot for your dog.
Connect with Local Dog Owners for Dog Boarding in Springdale
Find a match with other dog owners near you who have dogs of the same breed and age. These dogs speak the same language and have the same energy, making it a perfect match.
Homely Dog Boarding for Your Furry Friend
Say goodbye to traditional kennels and embrace a more personalized and homely experience for your beloved dog. With our dog boarding app, your furry friend will have the opportunity to stay in a warm and welcoming environment, right in your own neighborhood. The dog sitters not only provide a comfortable space for your dog but also understand the unique needs and characteristics of your dog's breed and energy levels.