WoofConnect Little Rock: Your Dog's Home Away From Home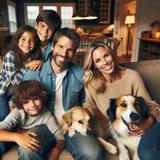 If you're a dog owner in Little Rock, imagine a place where your dog can stay and feel right at home. Imagine a boarding experience that's great for your dog, but also gentle on your pocket. Say hello to WoofConnect – revolutionizing dog boarding in Little Rock with a heartfelt, high-quality, and completely free option for your pet.
The WoofConnect Community: A Dream Spot for Dogs in Little Rock
Imagine your dog in a paradise where they're as comfy as they are in their own bed. Where they can play all day with other dogs, barking and wagging tails in pure delight. That's what WoofConnect is all about. We've built a network of dog lovers in Little Rock who really understand how important it is for our dogs to be cared for and loved, just like they are at home.
High-Quality Dog Boarding That Won't Break the Bank: WoofConnect's Pledge
We all know that regular kennels can be quite expensive. But, WoofConnect is changing that story. Our community offers top-notch dog boarding services in Little Rock, totally free! Our generous network of dog owners invite your pet into their homes, offering them a warm and cozy place to stay without asking for a penny. Yes, that's right – you can have peace of mind that your dog will receive the best care without having to worry about cost.
Personalized Care for Your Unique Dog
At WoofConnect, we cherish each dog's individual character. We connect you with local dog owners who are ready to love your pet just as much as you do, no matter if they're playful fetch-lovers or laid-back snugglers. Our hand-picked hosts offer a free-roaming, crate-free space where they'll dote on your dog just as you would.