Dog Boarding in South Bend: Where Your Pooch Feels at Home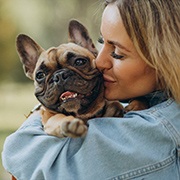 Hey there, dog owners of South Bend! We know the struggle of figuring out what to do with your furry friend when you want to go on vacation or take a weekend getaway. Leaving them in some cold, impersonal kennel? No way! When you're away, you want your dog to be in a place where they feel comfortable and loved. Somewhere that feels like home, with someone who treats them just as well as you do. That's where WoofConnect comes in. We're here to change the game when it comes to dog boarding in South Bend.
WoofConnect: Making Connections for Pawsome Boarding Experiences
At WoofConnect, we understand the importance of finding the perfect boarding option for your dog. That's why we connect dog owners in South Bend who have dogs of the same breed, similar age, and energy level. It's all about that perfect match! Imagine your furry buddy hanging out with a dog that speaks the same "woof language." They'll have a blast together, bounding around and understanding each other like no one else can.
Dog Boarding with a Personal Touch: Love, Not Cages
Say goodbye to the old-fashioned, cramped kennels and hello to a loving, home-like environment. With WoofConnect, we're all about creating a boarding experience that feels just like home for your furry companion. The sitters aren't just caregivers—they're people who understand your dog's breed and energy. It's like having a second home where your dog feels safe, comfortable, and loved.