Transforming Dog Boarding in Carmel: Where Home is Where the 'Bark' Is Calling All Dog Parents!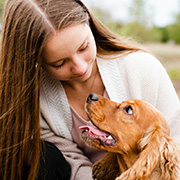 Hey there, dog-loving dynamos! You know that stomach-dropping moment when you're dreaming up your next vacation, and that nagging question raises its ugly head, "Who's going to look after Buddy?" Letting your fluffy companion stay in a cold, detached, and costly kennel in Carmel? Not a chance. Instead, you picture Buddy enjoying a cozy stay, a true home-away-from-home experience. Well, that's precisely our gig at WoofConnect. We're shaking up the dog boarding game, right here in Carmel. Our mission is no-nonsense: to find your furry friend a temporary home with someone who'll treat them like one of their own. The cherry on top? It's a two-way street. You'll get the chance to reciprocate when they're off exploring. We're cultivating a dog-loving community where similar breeds, similar energies set the tone, and it's been a resounding success.
WoofConnect: Shaking Up Dog Boarding in Carmel
We're waving goodbye to the old, nerve-wracking quest of finding a sitter. WoofConnect is all about linking you up with the perfect playmate for your dog right here in Carmel. Picture this: Buddy kicking it with a dog of the same breed, same age. They're going to have a blast, speaking the same "doggy dialect," matching each other's pep. It's a match made in canine heaven!
Dog Boarding, WoofConnect Style: All About Love, Not Locks
With WoofConnect, dog boarding is about warmth and companionship, not cages and solitude. We're crafting a loving environment where Buddy can feel just as snug as he does at home. We're not just providing a sitter; we're providing someone who truly understands Buddy's breed and energy level, making it a home away from home for him.