Dog Boarding in Indianapolis: Finding Your Furry Friend the Perfect Home Away From Home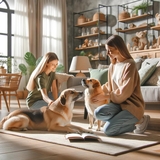 Are you a dog parent in Indianapolis looking for a loving place for your furry friend to stay while you're away? Finding reliable and affordable pet care can be a challenge, especially when it comes to leaving your beloved dog behind in a dog boarding facility in Indianapolis. That's where WoofConnect comes in!
WoofConnect: Revolutionizing Dog Boarding in Indianapolis
WoofConnect is an innovative dog boarding app that is transforming the way pet owners in Indianapolis find care for their pups. We match dog owners with local hosts (dog owners) who open up their homes and treat your dog like one of their own. No more sending your dog away to a cold, lonely kennel! With WoofConnect, your dog gets a real home-away-from-home experience.
Our community of dog lovers treat your pet like family, providing the same level of care and attention you would. Your dog gets to relax in a comfortable, home environment surrounded by new friends! It's the perfect solution for dog parents wanting peace of mind when they can't be there.
Finding the Purrfect Home Environment For Your Dog
At WoofConnect, we go beyond traditional boarding services. We take the time to pair your dog with a compatible host home that matches their energy, personality and needs. No more mismatches! We make sure your dog will thrive in their temporary home.
For high energy dogs, we match with hosts who can provide plenty of playtime and activity
Shy and anxious dogs are matched with calmer homes accustomed to sensitive pups
Homes with no other pets can give shy dogs a comfortable introduction
Active pups are matched with other young dogs to romp and play with
We consider your dog's age, breed, temperament and special needs to find just the right home for their stay. Your furry friend will get to relax in a familiar environment suited to their unique personality!