WoofConnect: Revolutionizing Dog Boarding in Bloomington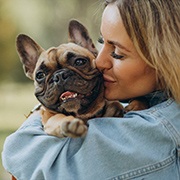 We've all been there. You're packing your bags for that much-needed vacation, but there's a nagging worry at the back of your mind – what about your furry friend? Leaving them in a sterile, lifeless kennel in Bloomington just doesn't feel right. WoofConnect is here to change that narrative, offering a warm, friendly, and free dog boarding solution that your pooch will love.
Fostering Connections Between Dog Owners in Bloomington
At the heart of WoofConnect is a deep-rooted belief in community. We're not just about boarding – we're about connecting dog owners who have a shared love for their pets. We help you find other dog owners in Bloomington who are looking for boarding, creating a mutually beneficial arrangement that benefits both parties – and, most importantly, the dogs!
Imagine finding someone nearby who has a dog of the same breed and similar age. These dogs share the same energy, speak the same 'woof language', and often form an immediate bond. And let's be honest, watching your Beagle play with another Beagle is just too adorable to miss!