WoofConnect: Shaking Up the Dog Boarding Scene in Fort Wayne – It's Like Home, Only Better!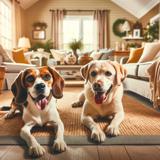 That moment when the suitcase is out, your trip's on the horizon, and your four-legged buddy hits you with that look—you know, the "I'm sad" puppy eyes. The thought of them stuck in a stark kennel? Unbearable! You'reIf you need a great place for your dog to stay while you're away, WoofConnect has got you covered. We offer an alternative to typical dog boarding in Fort Wayne by focusing on community and love. With us, your dog will stay with someone who loves dogs just as much as you do, ensuring they get all the affection they need in your absence. And it's a great deal: when you help another owner by taking in their dog, someone does the same for you.
WoofConnect: A New Take on Dog Boarding in Fort Wayne
Forget the hassle of hunting down a pet sitter. WoofConnect pairs your dog with a great companion right here in town. Imagine your poodle playing with another poodle their age, understanding each other perfectly. It's like they're best friends that have just met.
Dog Boarding with Love: Your Dog's Second Home at WoofConnect
Dog boarding at WoofConnect is all about providing a cage-free and loving environment. Our goal is that every dog stays where they can be just as comfy as they are at home. The person caring for them gets their breed and temperament, ensuring they're cared for in the best way possible.