Free Homestyle Dog Boarding in Moore with WoofConnect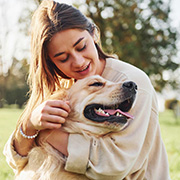 Are you planning a well-deserved vacation but struggling to find the perfect care solution for your furry companion in Moore? Look no further! WoofConnect is here to provide your beloved pooch with an exceptional homestyle dog boarding experience. Say goodbye to impersonal and overwhelming dog boarding facilities, and welcome a free and fabulous alternative that ensures your dog's comfort, happiness, and well-being while you're away.
Homestyle Boarding: A Stress-Free Retreat for Your Beloved Pooch
When you choose WoofConnect, you're opting for a homestyle boarding experience that puts your dog's needs first. Unlike traditional dog kennels, our dedicated sitters offer a calm and familiar home environment where your furry friend can feel at ease. This nurturing setting is particularly beneficial for dogs that may be more skittish or prone to stress. The home dog sitters in Moore provide ample time and attention to your canine companion, giving you the ultimate peace of mind. Now you can enjoy your vacation knowing that your furry family member is enjoying a blissful getaway of their own.
Tailored Dog Care to Meet Your Pooch's Unique Needs
At WoofConnect, we understand that every dog is unique, with specific needs, energy levels, and personalities. That's why we go the extra mile to ensure your dog's happiness and well-being by facilitating connections between dog owners in the Moore area. Through our platform, you can find owners who have dogs of the same breed, mix, and age as your pet. These connections allow your dogs to socialize with like-minded companions who share similar energy levels and play styles, creating the perfect doggy match. It's an opportunity for your furry friend to make new friends and have a tail-wagging good time while you're away.