WoofConnect Broken Arrow: Free Home-Based Dog Boarding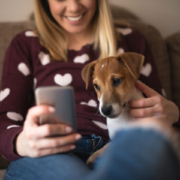 Are you getting ready for a well-deserved vacation but struggling to find the perfect care solution for your furry companion in Broken Arrow? Look no further! WoofConnect is here to provide your beloved pooch with exceptional and free homestyle dog boarding. Say goodbye to impersonal and overwhelming dog kennels and say hello to a cozy and comforting alternative that ensures your dog's happiness and well-being while you're away.
Homestyle Boarding: A Stress-Free Retreat for Your Beloved Pooch
When you choose WoofConnect, you're choosing personalized attention and a homestyle boarding experience that puts your dog's needs first. Instead of crowded and unfamiliar kennels, the experienced sitters offer a warm and loving home environment where your furry friend can truly feel at ease. This type of nurturing setting is especially beneficial for dogs that may feel anxious or stressed in traditional boarding facilities. With WoofConnect's home dog sitters in Broken Arrow, your dog will receive ample time, care, and attention, giving you peace of mind during your vacation.