WoofConnect Edmond: Experience Free and Loving Dog Boarding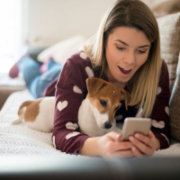 When it comes to finding reliable and affordable care for your dog while you're on vacation, the options can sometimes feel limited. Dog boarding facilities in Edmond may be expensive and crowded, leaving you searching for a better alternative. That's where WoofConnect comes in, offering a free and loving solution for dog boarding in Edmond. Let's explore how this app can connect you with trusted dog sitters in your area.
Find Local Dog Boarding with WoofConnect
With WoofConnect, finding free dog boarding in your neighborhood has never been easier. All you need is the WoofConnect app, available for download on the Apple App Store or Google Play Store. Simply create a profile for your dog, and you can start searching for local dog sitters in Edmond who are ready to provide a loving home away from home for your furry friend.
Connect with Fellow Dog Owners in Edmond for Boarding
WoofConnect goes beyond simply connecting you with a dog sitter. It enables you to find owners in your area who have dogs of the same breed, mix, and age as yours. This creates a wonderful opportunity for your dog to socialize and play with like-minded companions who speak the same language and share similar energy levels. It's a match made in doggy heaven!