WoofConnect Norman: Give Your Pooch a Perfect Homestyle Getaway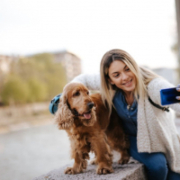 When it's time for you to pack your bags and take that well-deserved vacation, don't you wish your four-legged companion could enjoy a holiday too? It's a tough spot for any pet parent. While you'd love to leave your beloved dog with friends or family, it's not always possible. And let's face it, leaving your furry friend in a chaotic and impersonal dog kennel in Norman is far from ideal. But fear not, because WoofConnect is here to save the day! They offer a fantastic and free homestyle dog boarding solution right here in Norman. So now, while you're off exploring and having a great time, your dog can have a fabulous and laid-back vacation of their own.
Homestyle Boarding: A Home Away From Home
When you choose WoofConnect, your furry friend gets to enjoy the comfort and familiarity of a home-like environment, which helps keep their stress levels low. Unlike traditional dog kennels, which can overwhelm your pet with their busy atmosphere, a sitter's home provides a calm and familiar setting. This is especially beneficial for dogs that may be a bit more skittish. The dedicated home dog sitters in Norman have plenty of time and attention to devote to your furry buddy, giving you the ultimate peace of mind. So while you're off enjoying your vacation, your four-legged friend can have a blissful stay of their own.
WoofConnect: Making Pet Care a Breeze for Norman Dog Owners
Imagine finding the perfect playmate for your dog while you're away. With WoofConnect, you can connect with other dog owners in your area who have dogs of the same breed or mix and similar age. These dogs are on the same wavelength and share similar energy levels, making them the perfect doggy match!