Give Your Dog a Fun and Rewarding Stay With WoofConnect Dog Boarding Oklahoma City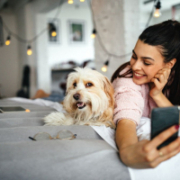 As a devoted dogt owner in Oklahoma City, you want to make sure your furry friend is happy and receiving great care when you can't be there. But boarding your dog at crowded, stressful kennels can be worrying. That's why dog boarding services in Oklahoma City like WoofConnect are so valuable. This innovative platform lets you easily connect with local dog owners to exchange free in-home dog boarding right in your OKC neighborhood.
Experience the Comforts of Home Dog Boarding in Oklahoma City, OK
With WoofConnect, your Oklahoma City dog can stay in a welcoming home environment instead of a cramped kennel facility. Your pup will receive lots of attention and playtime with a dog lover just like you. Trading home pet sitting services is totally free and ensures your furry family member stays comfortable and stress-free while you're away.
Find the Perfect Dog Sitter Match in Oklahoma City
The WoofConnect app makes it a breeze to find the ideal home dog boarding match in OKC. Get matched with pet owners who have a similarly aged pup so they'll get along great. Since sitters are experienced dog people, you can trust your pet will be cared for like family.
Give Your Pup Fun Playtime with Other Happy Dogs
Instead of being bored and alone in a small kennel space, with WoofConnect your dog enjoys playtime romping around a home. They'll make new furry friends too, since dogs of similar breeds and ages are brought together. Your pup will have a blast and get tuckered out from all the fun!