WoofConnect: Revolutionising Dog Boarding with Free, Home from Home Boarding in Swindon and Wiltshire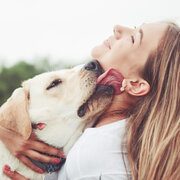 As the vibrant town of Swindon, nestled in Wiltshire, bustles with activity, dog owners within the community often face a significant predicament: finding a loving, affordable, and reliable solution for their dog's boarding needs. Traditional dog boarding kennels, although functional, seldom offer the cosiness and affection that dogs need. Moreover, the cost can become burdensome. In response to this challenge, WoofConnect emerges as a beacon of hope, offering a free, trustworthy, and heart-warming dog boarding service, right in the heart of Swindon and the local area.
Bridging Connections: A Canine Community in Swindon
At the core of WoofConnect, serving Swindon and the wider Wiltshire region, is our firm belief in the power of community. Our mission is about uniting dog owners throughout Swindon, creating a network of dedicated, caring individuals. Picture your beloved pet staying with a companion who provides the love and care they deserve, sparking an extraordinary bond and paving the way for endless joyful encounters and wagging tails.
Dog Boarding Reinvented: Creating a Second Home in Swindon
WoofConnect stands against the impersonal ambience of traditional boarding facilities and advocates for a home from home for every dog. Our network in Swindon and nearby areas like Wiltshire consists of empathetic dog owners who understand your dog's breed, temperament, and individual needs, ready to provide a nurturing, safe, and fun and safe haven.
Goodbye Expensive Boarding: Welcome Free Dog Boarding
The average daily rates for dog kennels in Swindon can be steep, a stress-free option is what we offer at WoofConnect. This revolutionary concept ensures your furry friend receives first-rate care and comfort in a loving home, without causing any financial strain.