WoofConnect: The Dawn of Free, 'Home Away from Home' Dog Boarding in Poole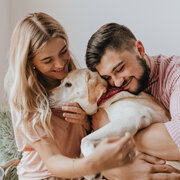 As residents of the picturesque coastal town of Poole in Dorset plan their holidays or work trips, the challenge of finding a suitable and loving place for their pets to stay often casts a shadow over their excitement. Traditional options like dog boarding kennels or dog hotels in Poole, with their rather impersonal approach and hefty daily rates ranging from £25 to £40, seem to miss the mark. WoofConnect emerges as a compassionate, understanding, and, importantly, free alternative, revolutionising dog boarding by offering a homely experience for your pet in and around Poole.
Cultivating Tail-Wagging Friendships in Poole
More than a mere service, WoofConnect fosters a vibrant community of dog owners and pet lovers in Poole. Envision your dog's delight in bonding with a friendly canine of a similar breed and age, matched to their energy levels. This service isn't just about pet sitting; it's about creating lasting, meaningful relationships, providing your pet with a home from home experience that they'll thoroughly enjoy.
A Comfortable Haven: Embracing Your Pet in a Homely Environment
WoofConnect understands the uniqueness of every dog, offering a warm, comfortable alternative to the cold confines of a traditional dog kennel. Our boarding network in Poole comprises individuals who are not just dog boarders but genuine pet lovers. They provide a secure, calm, and loving environment, ensuring your dog is well looked after and home happy while you're away, giving you peace of mind.
Bidding Adieu to Exorbitant Costs: Welcoming Free Dog Boarding
The cost of a traditional dog kennel in Poole can be staggering, often amounting to £175 to £280 for a week's stay. WoofConnect introduces a new era of dog boarding, offering pet care services in Poole completely free of charge. This initiative allows your dog to receive excellent care in a lovely, personal setting, all without financial stress.