WoofConnect: Free Dog Boarding and the Comfort of Home in Gloucester and More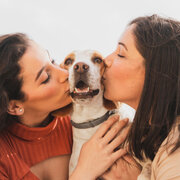 In the lush greenery of Gloucestershire, the city of Gloucester stands out with its charming, historical allure, establishing itself as a vibrant hub for dog lovers. Whether you're in Mitcheldean, Newnham, or surrounding areas, WoofConnect ensures your dog receives exceptional care without straining your budget.
Understanding Your Dog: Building Bond and Compatibility
WoofConnect recognises that dogs of the same breed often naturally connect. We match your dog with a companion who understands their breed and personality. It's about finding the perfect fit for your dog in Gloucester, from Ruardean to nearby locales, pairing them with someone who truly understands their needs.
Local Dog Boarding in Gloucester: Convenient and Close
WoofConnect connects you with the ideal dog sitter right in your area of Gloucester. Using our straightforward app, you can set your search radius and quickly find fellow dog owners near places like Tetbury and Dursley, ensuring prompt and local care for your pet.