WoofConnect: Discover a Free 'Home Away from Home' Dog Boarding Experience in Bournemouth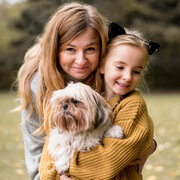 When planning a trip away from the scenic coastal town of Bournemouth, dog owners often face a challenging question: "Where should our beloved pet stay?" Traditional options like kennels or dog hotels, while reliable, can sometimes lack the personal touch and warmth that our furry companions deserve. Moreover, these services, including dog boarding kennels in Bournemouth, often come with significant costs, averaging from £20 to £35 per day. Enter WoofConnect, a pioneering and endearing solution that offers a free, 'home away from home' dog boarding experience right in the heart of Bournemouth, ensuring your dog is in good hands.
Fostering Unforgettable Canine Friendships in Bournemouth
WoofConnect is about more than just finding a place for your dog to stay; it's about creating a community. It connects like-minded dog lovers in Bournemouth, offering a family-like environment for your pet. Imagine your dog spending time with another dog, enjoying lots of walks and playtime, fostering bonds that lead to happy and well-looked-after pups.
A Sanctuary of Homely Affection: Prioritising Your Pet's Comfort
WoofConnect understands the importance of a warm and familiar environment, a stark contrast to the sometimes impersonal atmosphere of traditional dog kennels. Our network in Bournemouth is filled with compassionate individuals who are not only dog lovers but also adept in dog care, including aspects like dog training and providing a loving home full of energy and affection. These sitters ensure your dog will have a wonderful time, treated as part of the family in a true home environment.
Shattering Financial Constraints: The Era of Free Dog Boarding
The financial burden of a week-long stay in a conventional kennel in Bournemouth can be substantial. WoofConnect, however, introduces an era of free dog home boarding services. This groundbreaking approach means your furry friend can enjoy great care, lots of love, and attention, all without straining your wallet.