WoofConnect: Redefining Dog Boarding in Bristol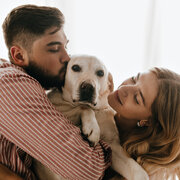 Think about it: You're about to go on holiday or a business trip, and there's your dog, excited and looking at you with those hopeful eyes. The notion of leaving them in a standard kennel might seem rather impersonal, right? This is a common quandary for many pet owners who long for a cosy alternative for their dog's stay, similar to their own home environment. Enter WoofConnect, offering a warmer approach to dog boarding in Bristol.
Welcome to WoofConnect: Your Dog's Home Away from Home in Bristol
Imagine a place where dog boarding is more than a mere service, but an expression of care and attention. WoofConnect is not just a standard facility; it's a collective of dog lovers dedicated to providing luxurious home stays in Bristol for your treasured pooch. Here, your pet is treated like part of the family, paired with a local host that aligns well with their personality and needs.
More than Just Boarding: Where Luxury Meets Affordability
Leave behind the impersonal feel of traditional kennels and their often steep prices. WoofConnect offers an attractive and affordable luxury alternative. Our home dog boarding service in Bristol provides a warm and personable environment for your dog, filled with affection and bespoke attention, and it's gentle on your wallet.
Local Convenience: Find a Dog Sitter Close to Home
Bid farewell to those lengthy journeys to remote kennels. With WoofConnect, finding top-quality dog care near you in Bristol is straightforward, bringing hassle-free dog boarding to your doorstep.
No matter where you are in Bristol, from North to South Gloucestershire, our app ensures your dog receives first-rate care right in your neighbourhood. It's more convenient for you and more comfortable for your pet.