WoofConnect: The Epitome of Dog Boarding in Cheltenham and Surrounding Areas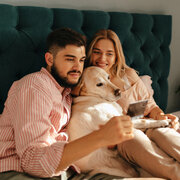 In the idyllic town of Cheltenham, known for its regency grandeur and vibrant social scene, dog owners often face a peculiar dilemma when planning a holiday or weekend escapade: "Where to bestow their beloved canine companions?" This question becomes even more pressing for those residing in Gloucestershire, Tewkesbury, and the surrounding countryside. The notion of confining these lovable creatures to an austere, impersonal kennel with substantial costs hardly aligns with the warm, cosy, and caring environment they are accustomed to at home.
Enter WoofConnect, bringing forth an imaginative and much more relaxed concept of free dog boarding as an alternative to traditional kennels. Picture a collective network of dog owners within Cheltenham and Gloucester, providing a reassuring retreat for your loyal companion while you are away. This service integrates a sense of community with the love and camaraderie one typically finds in a loving home environment.
Sowing the Seeds of Unforgettable Canine Experiences
Navigating the labyrinth of dog boarding facilities in Cheltenham and the surrounding oak woodlands requires finesse, one that WoofConnect, with its 5-star rated service, has refined into an exact science. Our aim is to secure the ideal companion for your dog during its stay, designing an environment that assembles dog owners in Cheltenham for home dog boarding. Visualise an arrangement where your dog finds solace with another canine of similar breed, age, or temperament, allowing for peaceful walks and exercises, ensuring your pets' individual needs are met.
Your Dog's Second Home: A Warm, Cosy and Loving Refuge
WoofConnect, a great dog boarding service in Cheltenham, focuses on a philosophy that nurtures, cherishes, and provides a homely environment. Here, leaving your dog for a stay means they enjoy the freedom and affection of a home, not the constraining bars of a cage. Our sitters, deeply devoted and passionate, offer personalised and immersive experiences, filled with love, attention, and a profound sense of belonging, ensuring your pet safe and cosy accommodation whilst you're away.