WoofConnect: Redefining Dog Boarding in Plymouth – A Free, Home-to-Home Haven for Your Beloved Pet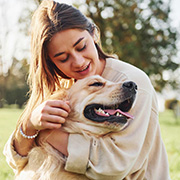 As you plan for your next holiday from the bustling coastal city of Plymouth, the question of where to leave your treasured furry companion often arises. Traditional kennels, while functional, often lack the homely warmth and personalised care your pet deserves, not to mention their high prices ranging from £20 to £35 per night. WoofConnect steps in as a beacon of hope, offering a novel and free home-to-home dog boarding service in Plymouth, presenting an ideal alternative to kennels.
Revolutionising Dog Boarding: WoofConnect's Tailored App Service
WoofConnect transcends the concept of a service; it is a compassionate community of dog lovers in Plymouth, Devon, redefining the dog boarding scenario. Our goal is to offer your dog a stay that mirrors the love and comfort of their own home. By connecting you with like-minded dog owners for mutual pet care, we ensure that your dog enjoys a delightful stay, full of cuddles, exercise, and companionship.
More Than Just a Stay: WoofConnect's Nurture-Filled Environment
Say goodbye to the detached, impersonal nature of traditional kennels. At WoofConnect, your dog is welcomed into the sitter's home, where they are treated as part of the family. This environment allows them to frolic freely, enjoy fresh air, and receive the kind of personalised care that only a loving dog host can provide.
Affordable Quality Care: A Dream Come True for Plymouth Dog Owners
With escalating costs of traditional dog boarding in Plymouth, WoofConnect presents a breath of fresh air – offering high-quality care at no cost. This initiative allows dog owners to arrange for their pets' stay without financial stress, ensuring that every dog's stay is as comfortable as lounging on a cosy sofa.
The WoofConnect Magic: Harmonious Matches for a Tail-Wagging Experience
The magic of WoofConnect lies in our precise matching system. We pair dogs of similar breed, age, and energy levels, ensuring that each furry guest in Plymouth can enjoy their time away from the kennels in a compatible, joyous environment. This attention to detail leads to a harmonious and delightful experience for both dogs and owners.