WoofConnect: Revolutionizing Dog Boarding in West Jordan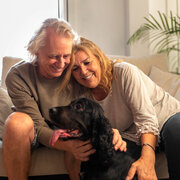 When an inevitable trip or an unavoidable business engagement demands your attention, your heart might waver at the thought of parting from your beloved four-legged friend. Traditional dog kennels in West Jordan, with their routine care, impersonal environments, and exorbitant costs typically ranging from $60 to $80 per day, may hardly offer the assurance your heart seeks. But fear not, for WoofConnect is here to redefine the dog boarding landscape in West Jordan, Utah, offering a unique, free solution for dog boarding.
WoofConnect: Building a Network of Responsible Dog Owners
The foundation of WoofConnect lies in fostering a network of mindful dog owners in West Jordan. Our platform thrives on the principle of mutual care. Imagine a network where dog owners open their homes to each other's dogs, providing a familiar, comfortable environment at no cost – that's the WoofConnect experience.
A Homely Haven: The WoofConnect Belief
Our philosophy at WoofConnect is that your pet should feel at home, even when you're not around. We strive to recreate the warmth and comfort of your pet's home by having your pet hosted by a fellow dog owner who understands the irreplaceable value of a pet's home. Our commitment to providing a home-like environment makes the boarding experience more comfortable, familiar, and stress-free for your pet.