WoofConnect: Free Dog Boarding in Toledo – Your Dog's Second Home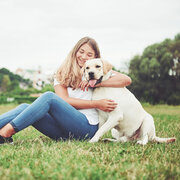 Do you worry about your dog when you're planning a trip or a quick escape? It's a common concern. The idea of leaving our pets in a stark kennel in Toledo doesn't sit well with us. While we enjoy our time away, it's important our dogs are happy too, feeling safe and cared for by someone who gets them and gives them the love they're used to. Enter WoofConnect. We're here to pair you with someone in Toledo who not only owns a similar breed or age pet but is also open to swapping care. This mutual arrangement means your pups get quality time during vacations and might result in new friendships, given their shared traits. Trust WoofConnect for your dog boarding needs in Toledo.
WoofConnect: Connecting Dog Owners in Toledo for Shared Boarding
Find your ideal dog boarding partner through WoofConnect. We link you up with local dog owners who have dogs similar to yours by breed (or mix) and age, ensuring your pets will vibe since they're on the same wavelength energy-wise.
A Homey Stay for Your Canine Friend
Say goodbye to tight spaces and strange places. WoofConnect offers your dog a comfortable stay in a familiar, home-like setting taken care of by sitters who know your dog's needs and personality.