Dog Boarding in Columbus: A Home Away From Home for Your Furry Friend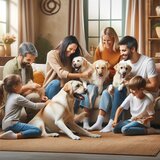 Is there anything more heartbreaking than leaving your furry best friend behind when you head out on vacation? As a dog parent, having to drop off your pup at a commercial boarding facility in Columbus can feel cold and isolating. But what if there was a better way? A way for your dog to stay in a real home environment with someone who will give them the same love and care that you do? That's exactly what WoofConnect offers dog owners in Columbus and central Ohio.
Finding the Purrfect Match for Your Pooch
WoofConnect isn't just another dog boarding service. We're a community of local dog lovers who open our homes to provide a comfortable, nurturing environment for pups when their owners are away. How does it work? We hand pick the perfect match for your dog by connecting you with other dog parents who have a similar breed, age, and personality.
This allows the dogs to immediately "click" and feel right at home. No more stressed, lonely dogs stuck in an unfamiliar kennel. With WoofConnect, your dog gets to stay with a new fur friend who speaks their language!
A Home Away From Home in Columbus
At WoofConnect, we believe dogs should feel just as loved and pampered in your absence as they do when you're home. That's why we provide boarding in real Columbus homes, not sterile, noisy kennel facilities. Dogs thrive when they have room to play and cuddle up comfortably. Our sitters treat their temporary house guests like part of the family!